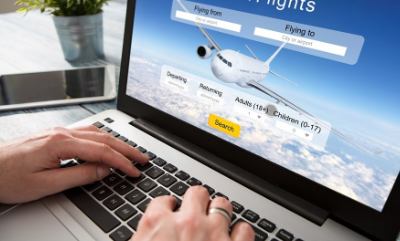 Once you have finalised your holiday destination and dates of travel, the next big task is to book your flight tickets. We understand, booking air tickets is a daunting task specially during the holiday season. From the plethora of options available, you want to choose a flight offering the best rate, suiting your travel dates, with minimum travel time and offering quality services. With so many permutations and combinations to take care of, you only end up wrecking your head.
At Intersight Tours, we understand the inconvenience of going through this elaborate process of making airline reservations and hence we aim at delivering relief from all this. We undertake the burdensome task of booking air tickets for you so you can relax and invest your time in preparing for your upcoming trip. We are an authorised agency for booking airline tickets. We provide airline tickets for all over the world.
Since air ticketing plays an important role, the entire process of ticketing right from ticket issuance to your seat reservation and booking your meal is handled very efficiently by our team. Our team of experts work round the clock to ensure that our clients have a comfortable and smooth journey.
Apart from airlines booking, we also assist our clients with flight schedules, quality checks, visa assistance, etc. We do airline reservations way in advance to get you the preferred rate and preferred seat on your desired dates. We also boast of proficiency in making reservations on an urgent basis.
Visa Assistance
A travel visa is a pre-requisite to gain entry into a foreign country. Countries like USA, Australia, Canada, Middle East, etc. require you to have a valid visa to enter their land. However, there are few countries which do not require you to hold a visa in advance, meaning, you can get the same on arrival in the foreign country. Few of the countries which offer visa on arrival are Bhutan, Thailand, Sri Lanka, Indonesia, Maldives, Cambodia, etc. While for all other countries, you will require a visa before even departing from your home country.
Most of the travellers are unaware of the process and documentation required to enter a foreign country. Visa being an official entry permit to your travel destination, is a very important document.
At Intersight Tours, we understand the importance of getting a visa and therefore we ensure that the documents submitted to the authorities are flawless and up to date in order to avoid any last minute issues or future hassles.
With years of experience, we are well-versed with the passport and visa procurement procedure and have a good understanding of the rules of the Passport Act. We keep our clients updated of all the recent amendments and changes in the visa fee or any additional documentation required by the consulate.
With us by your side, all you have to do is select the country you wish to travel to and we will assist you with the visa process right from getting the documents ready to preparing you for the actual visa interview. We extend our support in procuring the necessary forms and filling them, during verification checks and regular follow-ups. We also assist you in getting the documents ready for visa application such as preparing your flight itinerary, getting confirmed hotel booking and arranging for travel insurance.
Contact us now to avail our services!